Companies Like Okapi Resources (ASX:OKR) Are In A Position To Invest In Growth
We can readily understand why investors are attracted to unprofitable companies. For example, although software-as-a-service business Salesforce.com lost money for years while it grew recurring revenue, if you held shares since 2005, you'd have done very well indeed. But the harsh reality is that very many loss making companies burn through all their cash and go bankrupt.
So should Okapi Resources (ASX:OKR) shareholders be worried about its cash burn? In this article, we define cash burn as its annual (negative) free cash flow, which is the amount of money a company spends each year to fund its growth. The first step is to compare its cash burn with its cash reserves, to give us its 'cash runway'.
Does Okapi Resources Have A Long Cash Runway?
A company's cash runway is the amount of time it would take to burn through its cash reserves at its current cash burn rate. When Okapi Resources last reported its balance sheet in June 2019, it had zero debt and cash worth AU$3.2m. Importantly, its cash burn was AU$1.0m over the trailing twelve months. So it had a cash runway of about 3.2 years from June 2019. A runway of this length affords the company the time and space it needs to develop the business. The image below shows how its cash balance has been changing over the last few years.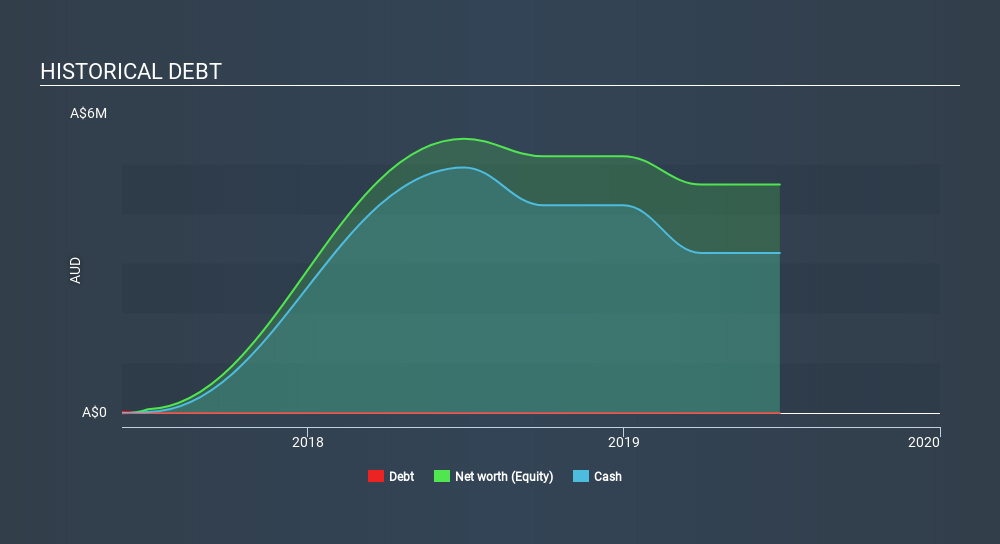 How Is Okapi Resources's Cash Burn Changing Over Time?
Although Okapi Resources reported revenue of AU$24k last year, it didn't actually have any revenue from operations. To us, that makes it a pre-revenue company, so we'll look to its cash burn trajectory as an assessment of its cash burn situation. With cash burn dropping by 15% it seems management feel the company is spending enough to advance its business plans at an appropriate pace. Okapi Resources makes us a little nervous due to its lack of substantial operating revenue. We prefer most of the stocks on this list of stocks that analysts expect to grow.
How Easily Can Okapi Resources Raise Cash?
While Okapi Resources is showing a solid reduction in its cash burn, it's still worth considering how easily it could raise more cash, even just to fuel faster growth. Issuing new shares, or taking on debt, are the most common ways for a listed company to raise more money for its business. Commonly, a business will sell new shares in itself to raise cash to drive growth. By comparing a company's annual cash burn to its total market capitalisation, we can estimate roughly how many shares it would have to issue in order to run the company for another year (at the same burn rate).
Okapi Resources's cash burn of AU$1.0m is about 42% of its AU$2.4m market capitalisation. That's high expenditure relative to the value of the entire company, so if it does have to issue shares to fund more growth, that could end up really hurting shareholders returns (through significant dilution).
How Risky Is Okapi Resources's Cash Burn Situation?
Even though its cash burn relative to its market cap makes us a little nervous, we are compelled to mention that we thought Okapi Resources's cash runway was relatively promising. Based on the factors mentioned in this article, we think its cash burn situation warrants some attention from shareholders, but we don't think they should be worried. Separately, we looked at different risks affecting the company and spotted 5 warning signs for Okapi Resources (of which 3 are potentially serious!) you should know about.