Here's Why Citius Pharmaceuticals (NASDAQ:CTXR) Must Use Its Cash Wisely
Just because a business does not make any money, does not mean that the stock will go down. For example, although Amazon.com made losses for many years after listing, if you had bought and held the shares since 1999, you would have made a fortune. But while history lauds those rare successes, those that fail are often forgotten; who remembers Pets.com?
So, the natural question for Citius Pharmaceuticals (NASDAQ:CTXR) shareholders is whether they should be concerned by its rate of cash burn. In this article, we define cash burn as its annual (negative) free cash flow, which is the amount of money a company spends each year to fund its growth. We'll start by comparing its cash burn with its cash reserves in order to calculate its cash runway.
When Might Citius Pharmaceuticals Run Out Of Money?
A cash runway is defined as the length of time it would take a company to run out of money if it kept spending at its current rate of cash burn. As at June 2019, Citius Pharmaceuticals had cash of US$4.5m and such minimal debt that we can ignore it for the purposes of this analysis. Importantly, its cash burn was US$12m over the trailing twelve months. That means it had a cash runway of around 4 months as of June 2019. That's a very short cash runway which indicates an imminent need to douse the cash burn or find more funding. The image below shows how its cash balance has been changing over the last few years.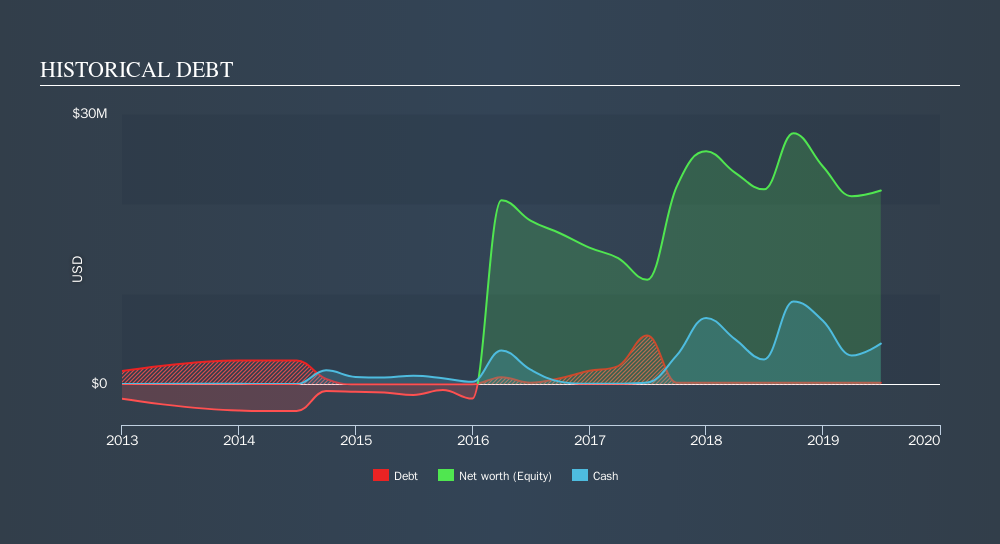 How Is Citius Pharmaceuticals's Cash Burn Changing Over Time?
Because Citius Pharmaceuticals isn't currently generating revenue, we consider it an early-stage business. Nonetheless, we can still examine its cash burn trajectory as part of our assessment of its cash burn situation. Cash burn was pretty flat over the last year, which suggests that management are holding spending steady while the business advances its strategy. While the past is always worth studying, it is the future that matters most of all. For that reason, it makes a lot of sense to take a look at our analyst forecasts for the company.
How Hard Would It Be For Citius Pharmaceuticals To Raise More Cash For Growth?
While Citius Pharmaceuticals is showing a solid reduction in its cash burn, it's still worth considering how easily it could raise more cash, even just to fuel faster growth. Issuing new shares, or taking on debt, are the most common ways for a listed company to raise more money for its business. Many companies end up issuing new shares to fund future growth. By comparing a company's annual cash burn to its total market capitalisation, we can estimate roughly how many shares it would have to issue in order to run the company for another year (at the same burn rate).
Citius Pharmaceuticals has a market capitalisation of US$16m and burnt through US$12m last year, which is 76% of the company's market value. Given how large that cash burn is, relative to the market value of the entire company, we'd consider it to be a high risk stock, with the real possibility of extreme dilution.
So, Should We Worry About Citius Pharmaceuticals's Cash Burn?
As you can probably tell by now, we're rather concerned about Citius Pharmaceuticals's cash burn. In particular, we think its cash burn relative to its market cap suggests it isn't in a good position to keep funding growth. While not as bad as its cash burn relative to its market cap, its cash burn reduction is also a concern, and considering everything mentioned above, we're struggling to find much to be optimistic about. Looking at the metrics in this article all together, we consider its cash burn situation to be rather dangerous, and likely to cost shareholders one way or the other.