We're A Little Worried About Plateau Energy Metals's (CVE:PLU) Cash Burn Rate
There's no doubt that money can be made by owning shares of unprofitable businesses. For example, although software-as-a-service business Salesforce.com lost money for years while it grew recurring revenue, if you held shares since 2005, you'd have done very well indeed. But the harsh reality is that very many loss making companies burn through all their cash and go bankrupt.
So, the natural question for Plateau Energy Metals (CVE:PLU) shareholders is whether they should be concerned by its rate of cash burn. In this report, we will consider the company's annual negative free cash flow, henceforth referring to it as the 'cash burn'. The first step is to compare its cash burn with its cash reserves, to give us its 'cash runway'.
Does Plateau Energy Metals Have A Long Cash Runway?
You can calculate a company's cash runway by dividing the amount of cash it has by the rate at which it is spending that cash. As at June 2019, Plateau Energy Metals had cash of CA$970k and no debt. Importantly, its cash burn was CA$7.1m over the trailing twelve months. That means it had a cash runway of around 2 months as of June 2019. It's extremely surprising to us that the company has allowed its cash runway to get that short! Depicted below, you can see how its cash holdings have changed over time.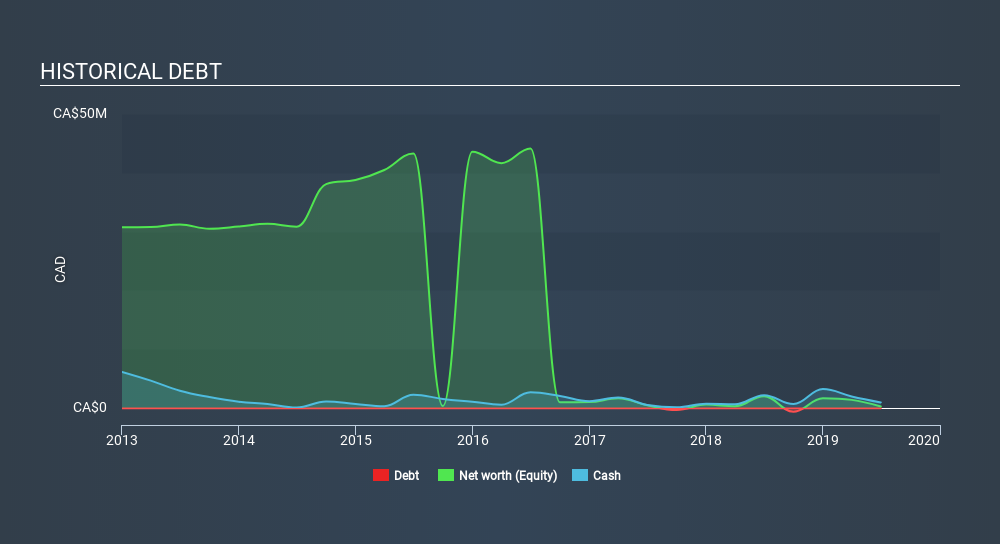 How Is Plateau Energy Metals's Cash Burn Changing Over Time?
Plateau Energy Metals didn't record any revenue over the last year, indicating that it's an early stage company still developing its business. Nonetheless, we can still examine its cash burn trajectory as part of our assessment of its cash burn situation. Over the last year its cash burn actually increased by a very significant 93%. Oftentimes, increased cash burn simply means a company is accelerating its business development, but one should always be mindful that this causes the cash runway to shrink. Clearly, however, the crucial factor is whether the company will grow its business going forward. For that reason, it makes a lot of sense to take a look at our analyst forecasts for the company.
How Hard Would It Be For Plateau Energy Metals To Raise More Cash For Growth?
Since its cash burn is moving in the wrong direction, Plateau Energy Metals shareholders may wish to think ahead to when the company may need to raise more cash. Issuing new shares, or taking on debt, are the most common ways for a listed company to raise more money for its business. One of the main advantages held by publicly listed companies is that they can sell shares to investors to raise cash to fund growth. By comparing a company's annual cash burn to its total market capitalisation, we can estimate roughly how many shares it would have to issue in order to run the company for another year (at the same burn rate).
Plateau Energy Metals has a market capitalisation of CA$20m and burnt through CA$7.1m last year, which is 35% of the company's market value. That's not insignificant, and if the company had to sell enough shares to fund another year's growth at the current share price, you'd likely witness fairly costly dilution.
How Risky Is Plateau Energy Metals's Cash Burn Situation?
As you can probably tell by now, we're rather concerned about Plateau Energy Metals's cash burn. Take, for example, its cash runway, which suggests the company may have difficulty funding itself, in the future. While not as bad as its cash runway, its cash burn relative to its market cap is also a concern, and considering everything mentioned above, we're struggling to find much to be optimistic about. The measures we've considered in this article lead us to believe its cash burn is actually quite concerning, and its weak cash position seems likely to cost shareholders one way or another. While it's important to consider hard data like the metrics discussed above, many investors would also be interested to note that Plateau Energy Metals insiders have been trading shares in the company. Click here to find out if they have been buying or selling.